By Tim Sullivan
Marine lubricant marketers and their customers face several significant challenges in coming years, but the market is growing and still offers opportunities to new and existing suppliers, an industry insider said at a recent conference.
That's why the segment is attracting new entrants even though it isn't easy to provide what customers want, Caroline Huot, head of global lubricants for Cockett Marine Oil Group, said last month at the ICIS Asian Industrial Lubricants Conference in Singapore.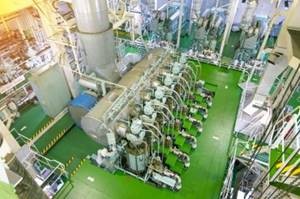 Photo: seabreezesky/Shutterstock
Despite significant challenges facing marine lubricants, an industry insider says the industry is growing and has room for new entrants into the market.
"The marine lubricant market is a growth opportunity despite many challenges and constraints," Huot said.
Global demand for marine lubes was 2.35 million metric tons in 2017, she estimated, adding that those volumes brought an estimated U.S. $4.5 billion in sales revenue.
Asian vessels consumed the largest portion of those products – 1.2 million tons, or 49 percent – followed by Europe and Russia (900,000 tons). Vessels originating from Africa, the Middle East and India consumed only 200,000 tons, while those based in the Americas consumed just 90,000 tons.
The Japanese fleet was the largest consumer in the Asia-Pacific region, accounting for 340,000 tons, Huot said, followed by China at 250,000 tons, South Korea at 140,000 tons and the combination of Singapore and Indonesia at 130,000 tons. She noted that nine of the globe's 15 largest shipping companies are based in Asia.
The leading marine lubricant suppliers are based elsewhere, Huot said. ExxonMobil accounts for 21 percent of global sales volumes, BP Castrol for 18 percent, Shell Lubricants for 16 percent, Total for 13 percent, Chevron for 7 percent and Lukoil for 3 percent.
Shipping companies are demanding companies, she said, explaining that they expect high levels of customer service and technical expertise to help protect their ships.
"These vessels are costly assets, so the value is in services," Huot said. Eighty-five percent of marine lubricant volumes are purchased on contracts rather than spot sales, so the ability to supply around the world is one key to success.
The market will face several new challenges in the next few years, including regulations such as a reduction in marine fuel sulfur levels, mandates to use environmentally acceptable products, ongoing evolution in equipment design and pressures to reduce costs while providing improvements in operating efficiency.
That is not deterring new suppliers from entering the market, she said, citing Japan-based JXTG, Indian Oil, China energy giant Sinopec, Spain's Cepsa, Enoc of the United Arab Emirates and Russian Gazprom. Huot added, though, that there is an "absence of a global strategy or investment in most cases."
"The marine lubricant market is a growth opportunity despite many challenges and constraints," Caroline Huot, Global Head Lubricants Cockett Group said at ICIS Asian Industrial Lubricants Conference in Singapore on 14 - 15 November 2018.
To read more:
https://pubs.lubesngreases.com/lubereport-asia/5_53/trends/Marine-Lube-Market-Challenging-But-Growing-14380-1.html``